The Chocolate We Promised You
Chocolate-winning vows
October 2, 2009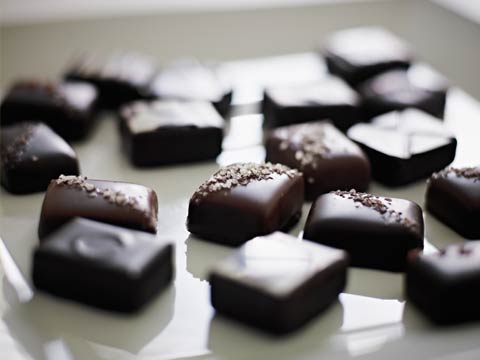 About a year ago Quixote Foundation released its ten-year anniversary report. We asked you to join us in making some vows, and promised fabulous gift boxes of Theo Chocolate to three vow authors of our choosing. Vows have kept coming in but we're finally forcing ourselves to play favorites among a whole lot of dynamic ideas. Here are four-not-three chocolate-winning vows, and some of the reasons we chose them.
I vow to work with and support only those organizations that are run (board and staff) by communities of color or are multi-racial. I appreciate the desire of some to take progressive organizations to "scale" but, unfortunately, due to systemic racism, organizations that have the current capacity to be taken to scale are almost exclusively white. So some of us have to step up and say "If it's all white, it ain't progressive." So huge props to the youth organizing movement for showing us boomers a better way.

-Nancy Harris Dalwin, Fusion Consultants, San Francisco, CA
We're big fans of Nancy's no-holds-barred call to action, and the fact she gives young people the credit they're due. A consultant we know once wrote a five-second plan for diversifying all-white nonprofit boards of directors: Fire everyone and start over. Sometimes it might not be that simple but, when we face reality, a lot of times it is.
I vow to drive the speed limit even if everyone else is driving 80 mph. I think it is a radical practice; it saves gas, reduces our emissions and practices living more consciously.

-Linda Schade, TrueVote, Baltimore, MD
We are all in favor of Linda's simple, planet-saving pledge, even while we cringe guiltily at the thought of how we probably acted last time she was in front of us on a two-lane highway.
I vow to take the organizational risks necessary to push for transformative change in 2009—affordable, quality universal health care—and to challenge our allies to do the same. I would like to foster a level of trust and shared vision among progressive organizations that allows a higher level of coordination and synergy. To take advantage of our collective potential opportunity in 2009, progressives must be willing to manage turf issues and parochial concerns. I hope to be a model of that behavior.

-John Hickey, St. Louis, MO
Good on ya, John Hickey, for highlighting universal health care as a centering concern for progressives in every issue area, a reason to reach past immediate organizational goals and an achievement that would benefit every person living in the U.S.
I vow to move more money into investments that directly further our mission. It's almost dishonest to pretend we can invest our money in traditional ways without creating more of the problems we're trying to solve with a small part of it—so let's get it all working for good.

-Joel Solomon, Renewal, Vancouver, B.C.
Sigh. As if we needed another reason to adore Joel Solomon. The way he explains mission-related investing is so clear and resonant we might just plagiarize him sometime soon.
It's not too late to chime in with your own ideas. We won't promise more chocolate but we'll continue the tasty conversation and post your contributions on the Quixote Foundation web site. In the meantime, put the brakes on your speeding and accelerate your drive to fulfill those vows!
—written by Keneta Anderson for Quixote Foundation